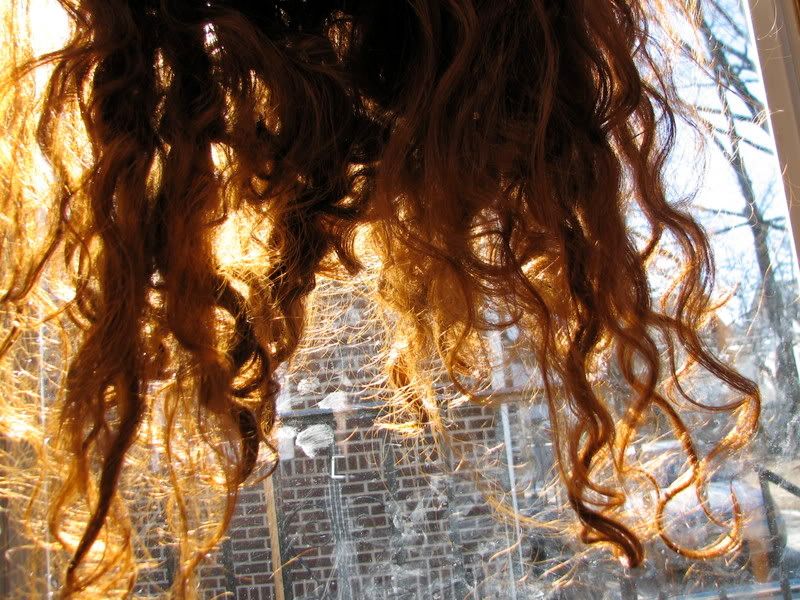 Hey, y'all, I'm de-pooing! My hair, that is. I've stopped using shampoo and conditioner, but never fear: I still wash my hair. I just use baking soda and apple cider vinegar (ACV) instead.
Why ditch the 'poo? The two biggies:
1--
To avoid harmful/toxic ingredients in many shampoos and conditioners
2----
To achieve a natural oil balance
(your scalp--like your boobs if you're breastfeeding--works on demand, meaning that it makes as much oil as is required. Shampoos strip your hair of oil, so if you wash frequently your scalp is constantly trying to make up for what's stripped by cranking up the oil production... which causes you to have to shampoo more often. See where I'm headed here? No-pooing gently corrects the problem over time and returns your scalp to a natural oil-producing cycle.)
And I bet I save a ton of money, too, considering I was buying a chemical-laden and high-end vegan brand of shampoo/conditioner (
Pureology
). $50 for a pair of bottles! Ow, my wallet.
This is just Day One for me, but my hair smells and feels great! (Don't worry, the ACV rinses right out and there is no lingering smell.) It's shiny, full, and not oily in the least. But don't freak out if you have a detox period during which your mane is less than marvelous--it's totally normal and not permanent.
HOW TO DO NO 'POO:
I simply made a paste from baking soda and water in a refillable plastic bottle, and in another plastic spray bottle I used a 1:4 ratio of ACV to water. A good scrub/massage with hot water and the baking soda paste helps dislodge any gunk. Then I liberally sprayed my hair with ACV, let it sit for a few minutes while I went about my other shower business, and rinsed my hair with cold water to help keep things shiny and healthy. I'll probably do the ACV 2-3 times a week and the baking soda paste slightly less often (I've heard it can be a bit drying). If you want a nice smell, consider adding small amounts of essential oil to the mix.
For photos of other no-pooers,
click here
. To see one woman's no-poo photo progression,
click here
. By the by,
the No 'Poo Community on LJ
is a great source of information and support if you're thinking about taking the plunge or are just curious.
I'll be back with an update in a while. In the meantime, let us know if you're taking the no-poo challenge!